Welcome to Kinosaki Onsen, one of the most charming hot spring towns in Japan.
A famous and popular hot spring destination for over a millennium.
The cozy atmosphere and 7 natural hot springs draw people in from all over looking for the perfect place to relax and unwind.
The wonderfully-preserved architecture and authentic hot spring ambience can be seen and experienced along every street and alleyway. Listen to the rhythmic and calming clip-clopping of visitors' geta (traditional wooden sandals) as they stroll along the softly lit streets of Kinosaki Onsen.
Kinosaki Onsen is conveniently located just 2.5 hours by train from Kyoto and 3 hours by train from Osaka. From either city, travelers can take a limited express train directly to Kinosaki Onsen Station. Very close to Kinosaki Onsen are beautiful beaches, a historical castle town, and adventurous highlands.

Getting here

Kinosaki Onsen has maintained its serene atmosphere and authentic old Japan allure for over 1300 years through its well-preserved architecture and onsen culture. Stroll along the willow-lined canal in a traditional yukata (light cotton kimono) and listen to the clip-clopping sounds of your geta echoing down the softly lit streets.

More about Kinosaki's history

Seven hot springs are dispersed throughout town and are all within walking distance of one another. Each one has its own unique style and history. Most local ryokan and other accommodations include a ticket that gives you access to all seven for free with your stay. Alternatively, a day pass can be purchased if you aren't staying the night.
It is also worth mentioning that all seven of the public bathhouses allow people with tattoos of any size, color, or shape.

See all onsen
One of Japan's most photogenic hot spring towns,
filled with nostalgia and old-world charm.
The town's intimate ambience radiates romantic old-world charm. Arched footbridges crisscross over the town's gently-sloped river, providing the perfect backdrop for photos. Much of the town's architecture is well preserved and the traditional style of the town has been protected over the centuries. Wooden ryokan stand watch over the streets with a gentle glow from their rooms and silhouettes of guests can be seen people watching from their room.
One quiet street at the back of town takes you under the moss-covered cherry blossom trees and to a small shopping square.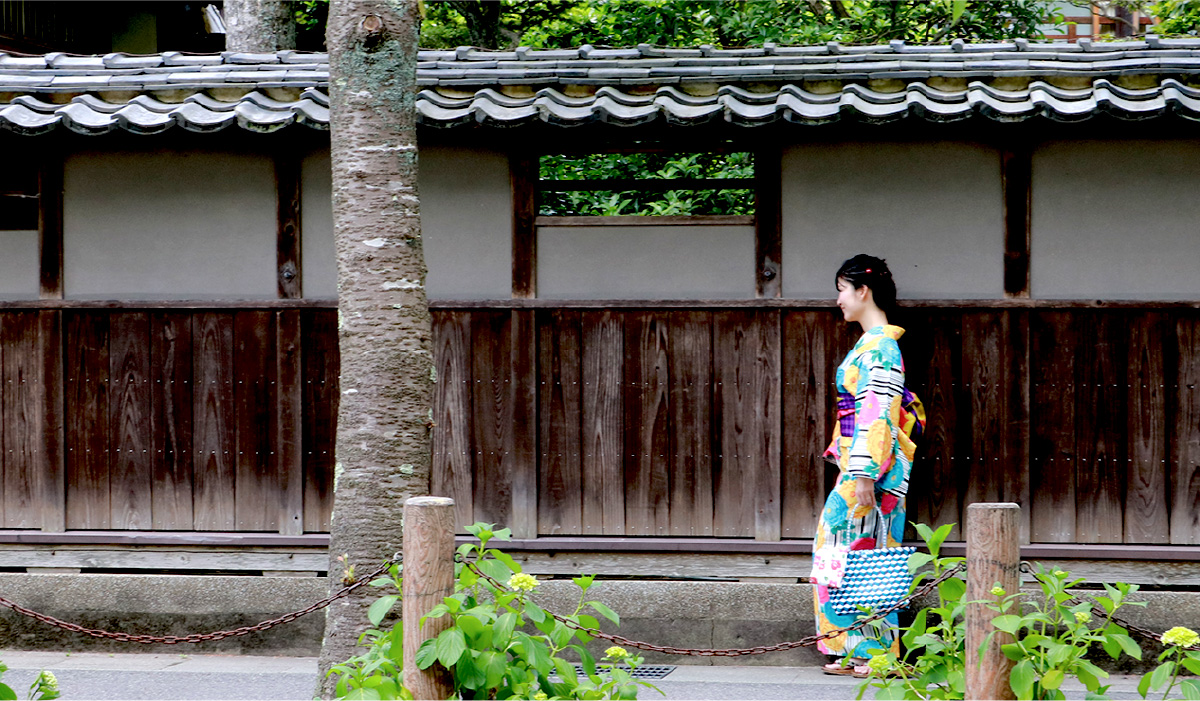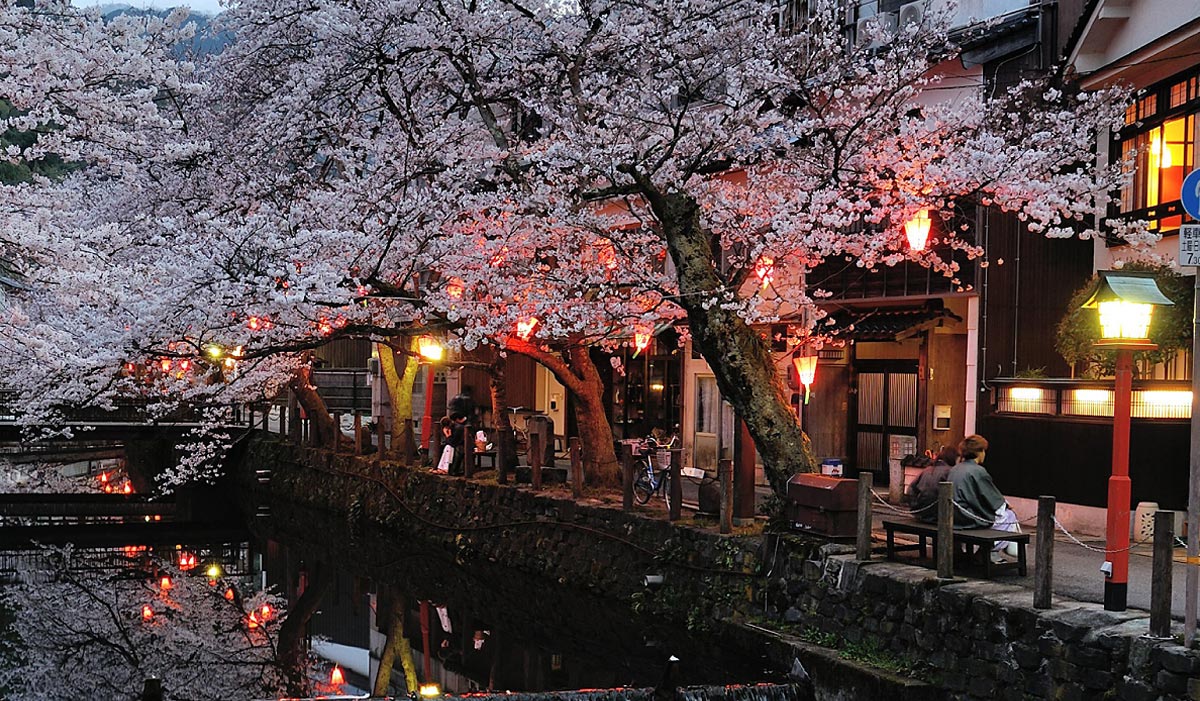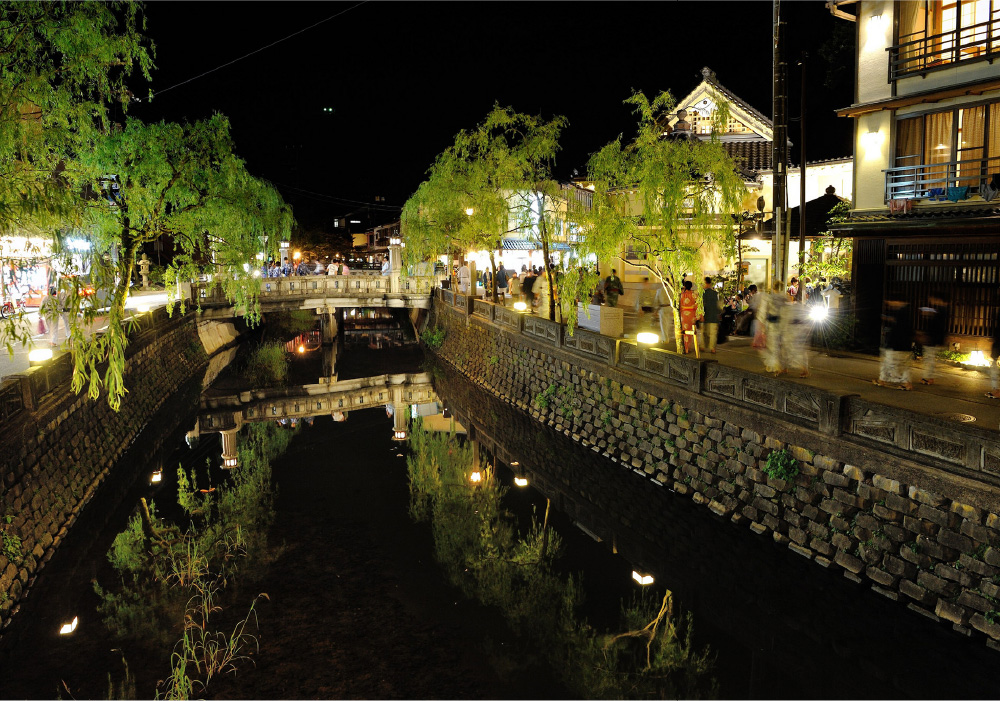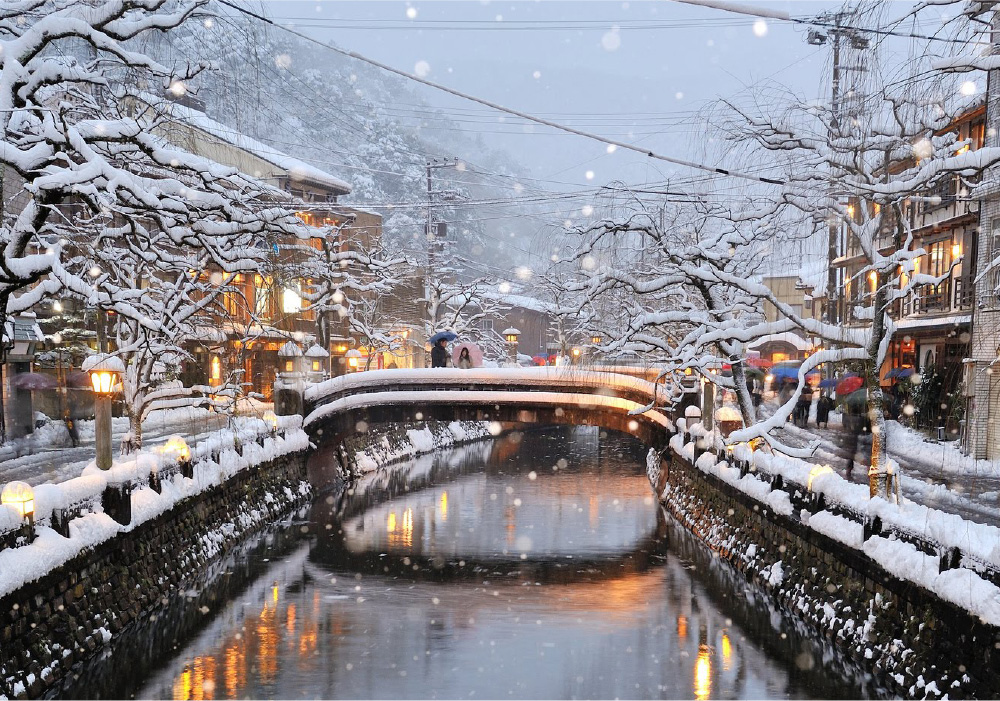 A quiet walk down Kiyamachi Street
This tree-lined lane that runs along the canal in Kinosaki Onsen's backroads sees less traffic and provides beautiful backdrops that are great for postcard-like photos.
Night cherry blossoms along Kiyamachi Street
Cherry blossoms line a kilometer-long lane along the canal, creating a soft pink canopy.
Evening stroll along the willow-lined canal
Street lamps gently light the way at night, Kinosaki's most magical time.
Backstreets and alleyways with views
Wander up and down the narrow backstreets and alleyways. These secret streets hide charming scenery.
A winter wonderland covered in white
Snow covers the stone-arched bridges and the town in a soft white blanket, creating an ethereal sight.
Onsenji Temple

Visit the guardian temple of the hot springs and learn about the mysterious lore behind the temple's kannon statue.

Details

Community with tourism

Kinosaki Onsen is not just a tourist town, it is home to families who have lived and run many local businesses for generations.

Details

Ryokan stay in Kinosaki

Experience pure Japanese culture and wonderful hospitality at one of Kinosaki's over 74 ryokan.

Details
Relax in the 7 public hot springs, all of which are tattoo friendly.
It takes approximately 20 minutes to walk through Kinosaki Onsen from one end to the other at a leisurely pace. Along the way you will pass by all seven public hot spring bathhouses, each with its own charm and offering a relaxing soak.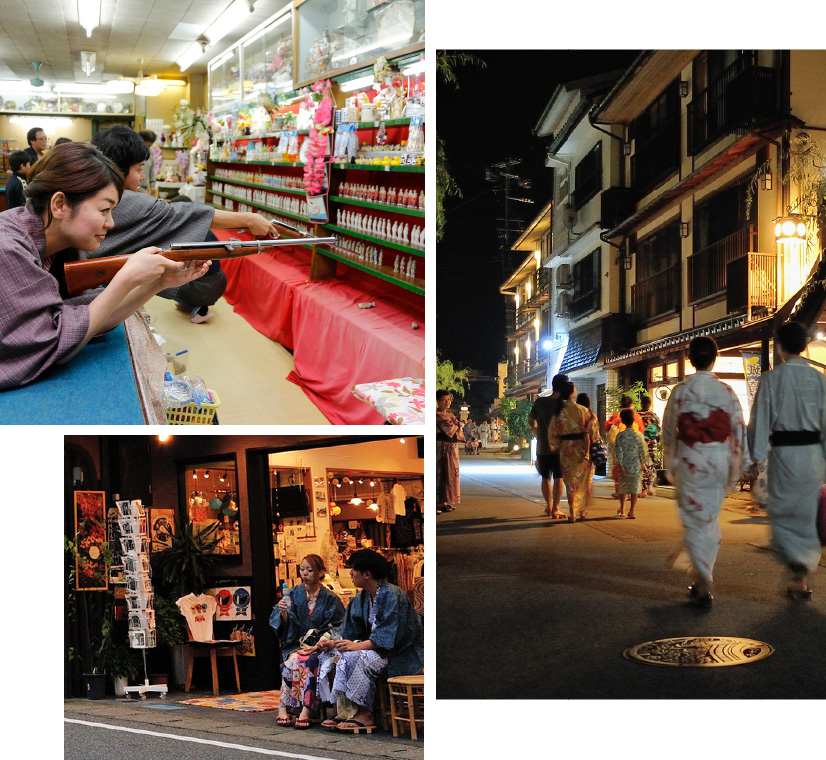 Yukata Sozoro Aruki
Visitors of all ages can be found strolling leisurely throughout the town in beautiful yukata and geta. This strolling is sozoro aruki, a Japanese term meaning to walk leisurely and with no apparent aim.
This is a long-standing tradition of Kinosaki Onsen. From around dusk to dawn you will see more people in yukata than not. These yukata-clad onsen goers add to the traditional atmosphere of this cozy hot spring town.
While strolling through town, you can stop at various souvenir shops, cafes, and retro arcades in between soaks in the hot springs. Have a refreshing ice cream, relax in a cafe, or try your hand at an old Japanese arcade game.
A traditionally intimate stay
Kinosaki Onsen has over 74 ryokan, many of which are family owned and have been running for generations. They each value the importance of Japanese tradition. When staying in a ryokan you will experience pure Japanese culture, tradition, and outstanding hospitality called omotenashi.
With a wide variety of ryokan, it is easy to find one to fit your needs and budget. When booking, speak with your ryokan about special meal requests, like vegetarian dinners, or ask if they have a reservable private bath.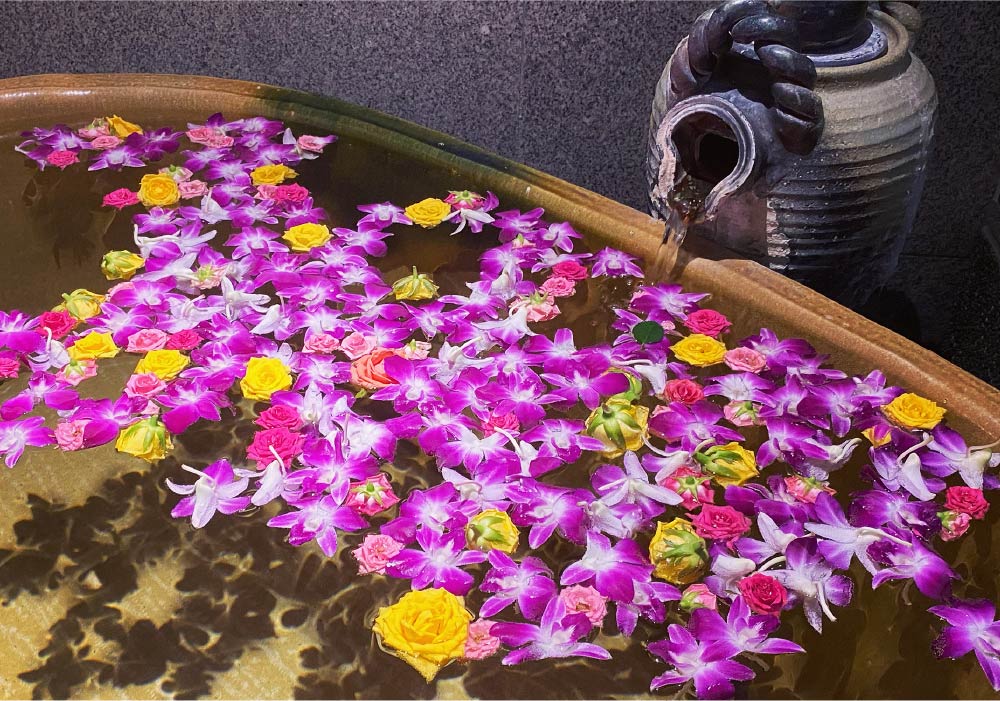 Beautiful gardens
Some ryokan have gardens, ranging from classically simple to beautifully extravagant. They are designed with Japanese aesthetics and philosophical ideas in mind, highlighting the natural landscape and seasons.
A private ryokan bath
Many ryokan have their own in-house hot spring style baths. Some also have reservable private baths.
Meals served with care and attention
Meals will be served either in your room or in the dining hall. Ryokan are devoted to using primarily local ingredients.
Japanese style futon beds
An attendant will lay out and put away your futon while you are away. These futons are simple and very comfortable.
Kinosaki Onsen ryokan
Beautiful buildings that hold on to traditional Japanese architectural styles line the streets of Kinosaki Onsen. Each one with its own charm, and every last one with outstanding service. You can search for your perfect stay through this site by clicking the link below. Be sure to make your stay complete with a kaiseki dinner, a traditional Japanese banquet-style meal.