Ryokan Stay in Kinosaki
A purely Japanese cultural experience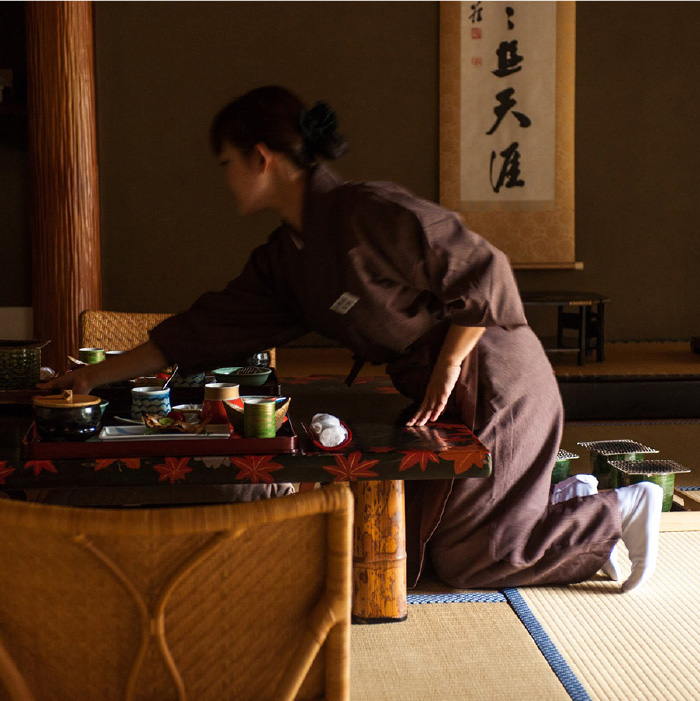 More than just a hotel
A ryokan, a traditional Japanese style inn, is more than just a hotel and a place to sleep. Ryokan are a way to experience pure Japanese tradition, lifestyle, and hospitality.
There are over 74 ryokan in Kinosaki Onsen ranging in size and price, making it easy to find one to fit your needs and budget.
Many of the ryokan have been family-owned for generations. Each one values the importance of Japanese tradition and takes pride in sharing these traditions with their guests.
Accommodations with a taste of Japanese lifestyle
The traditional ryokan rooms are known for being beautifully simple and elegant. The floors are covered with tatami mats and furnished with a low table and floor cushions for seating.
This style is the same one that you will find in traditional Japanese family homes. Like ryokan, some modern homes still have a room dedicated to this style.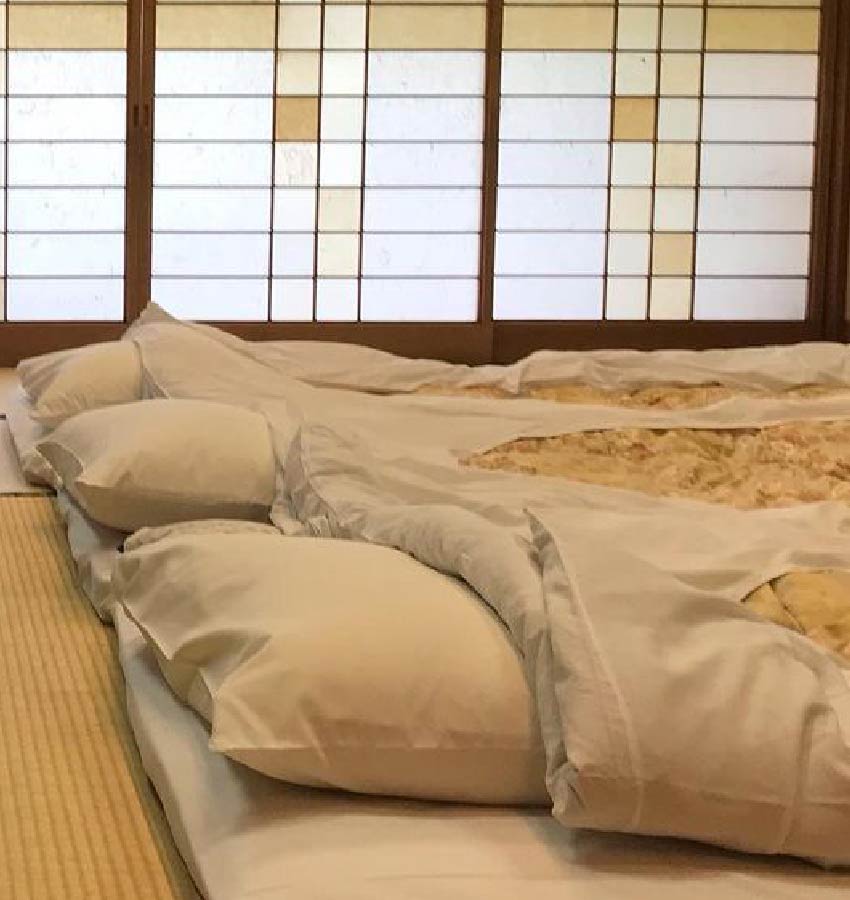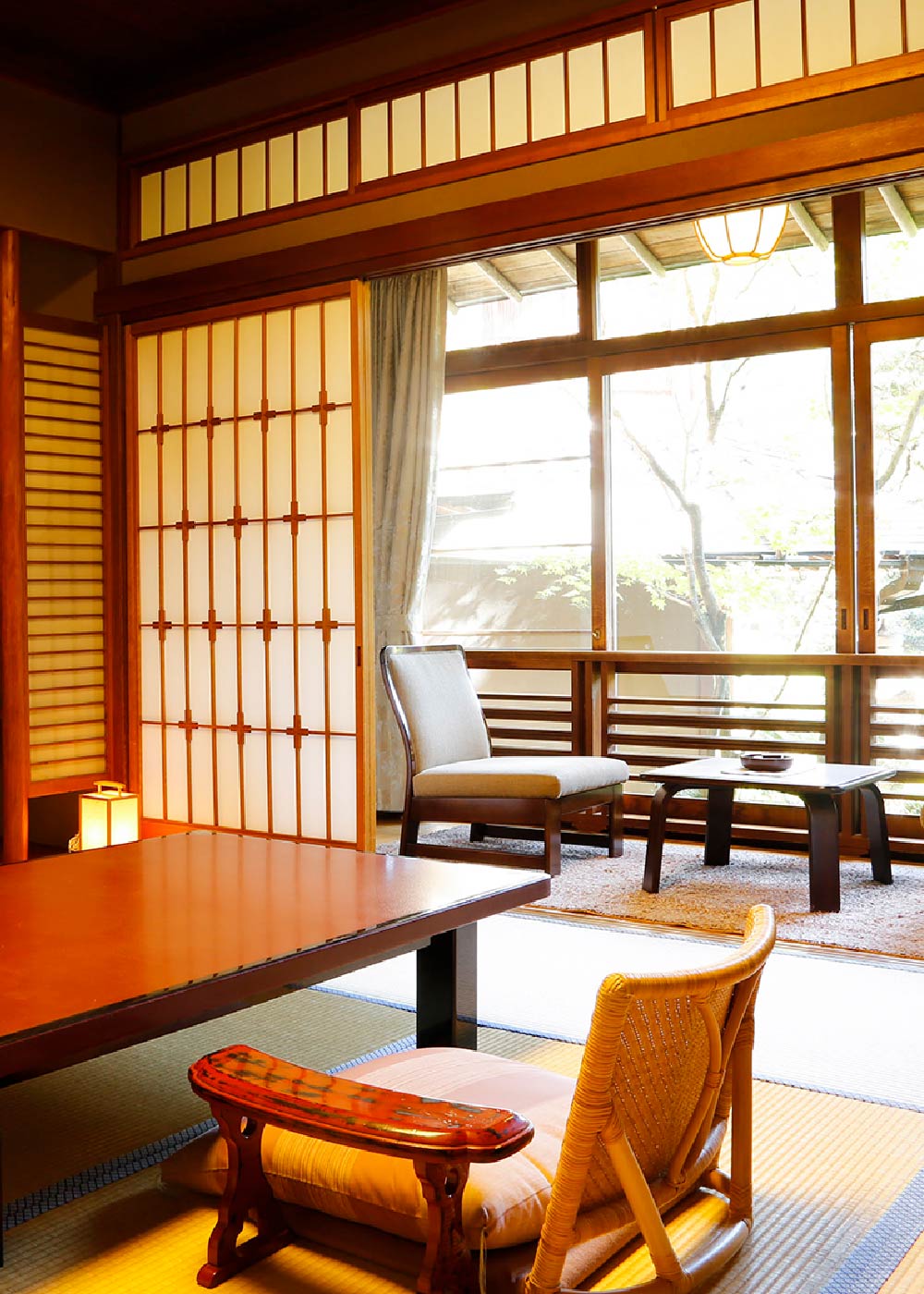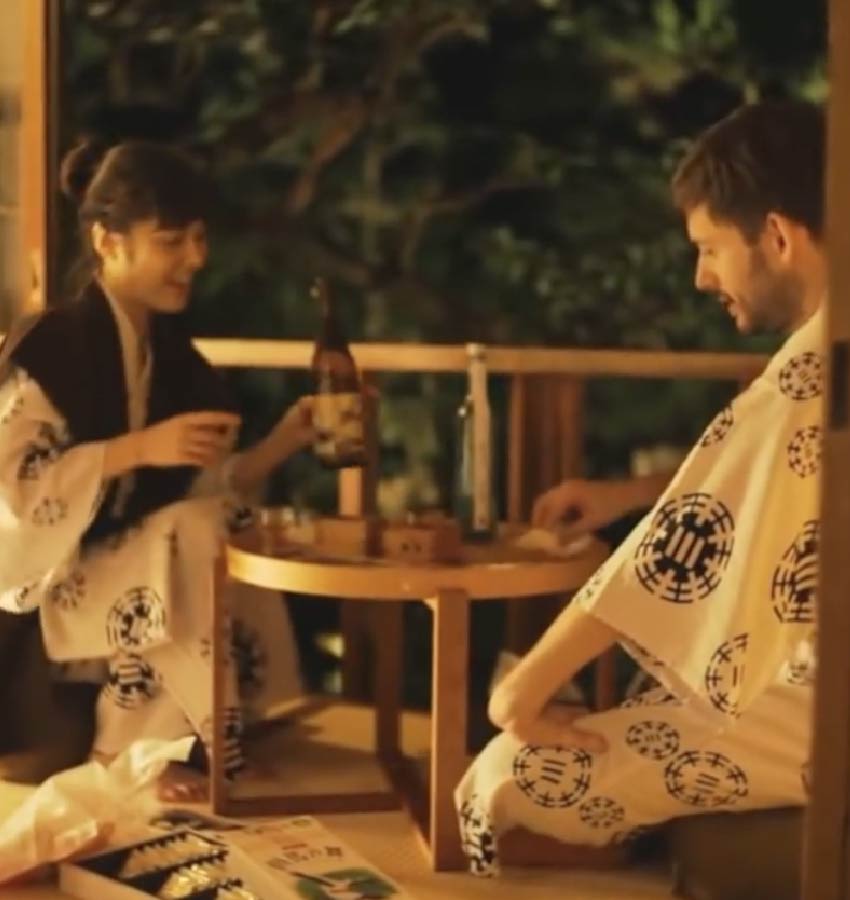 You will also notice that some rooms do not have a clock; this is so that guests won't worry about the time and instead focus on relaxing during their stay.
A look at a typical stay in a Kinosaki Onsen ryokan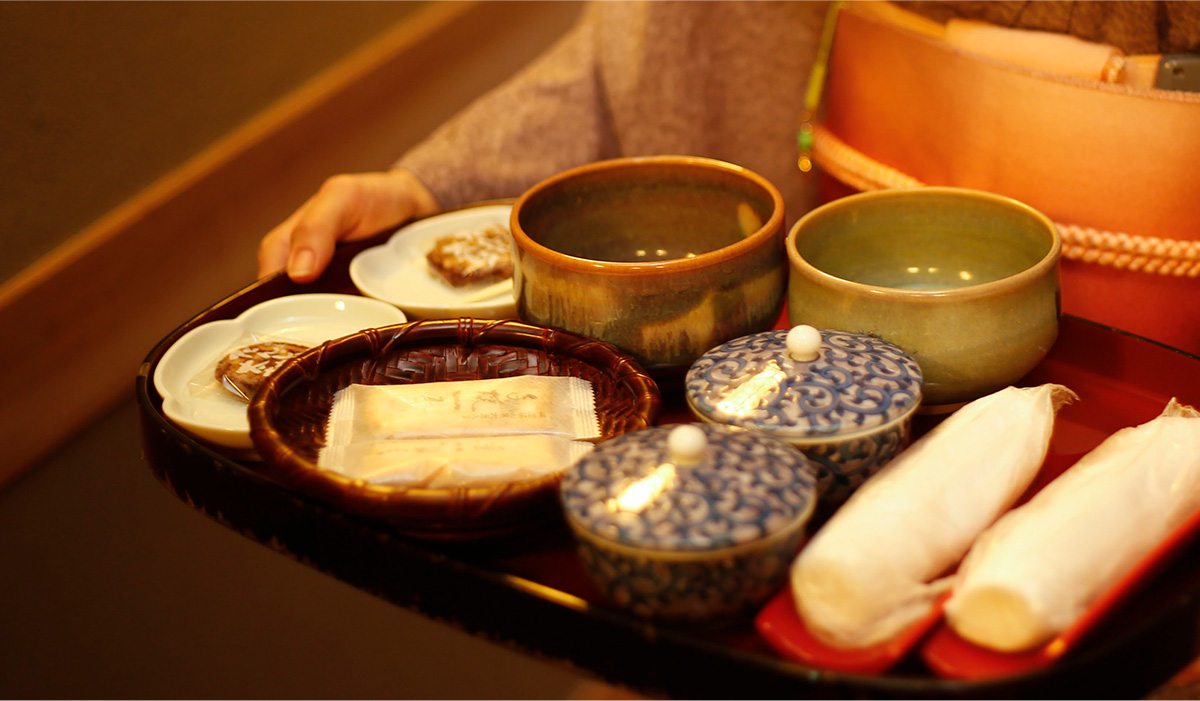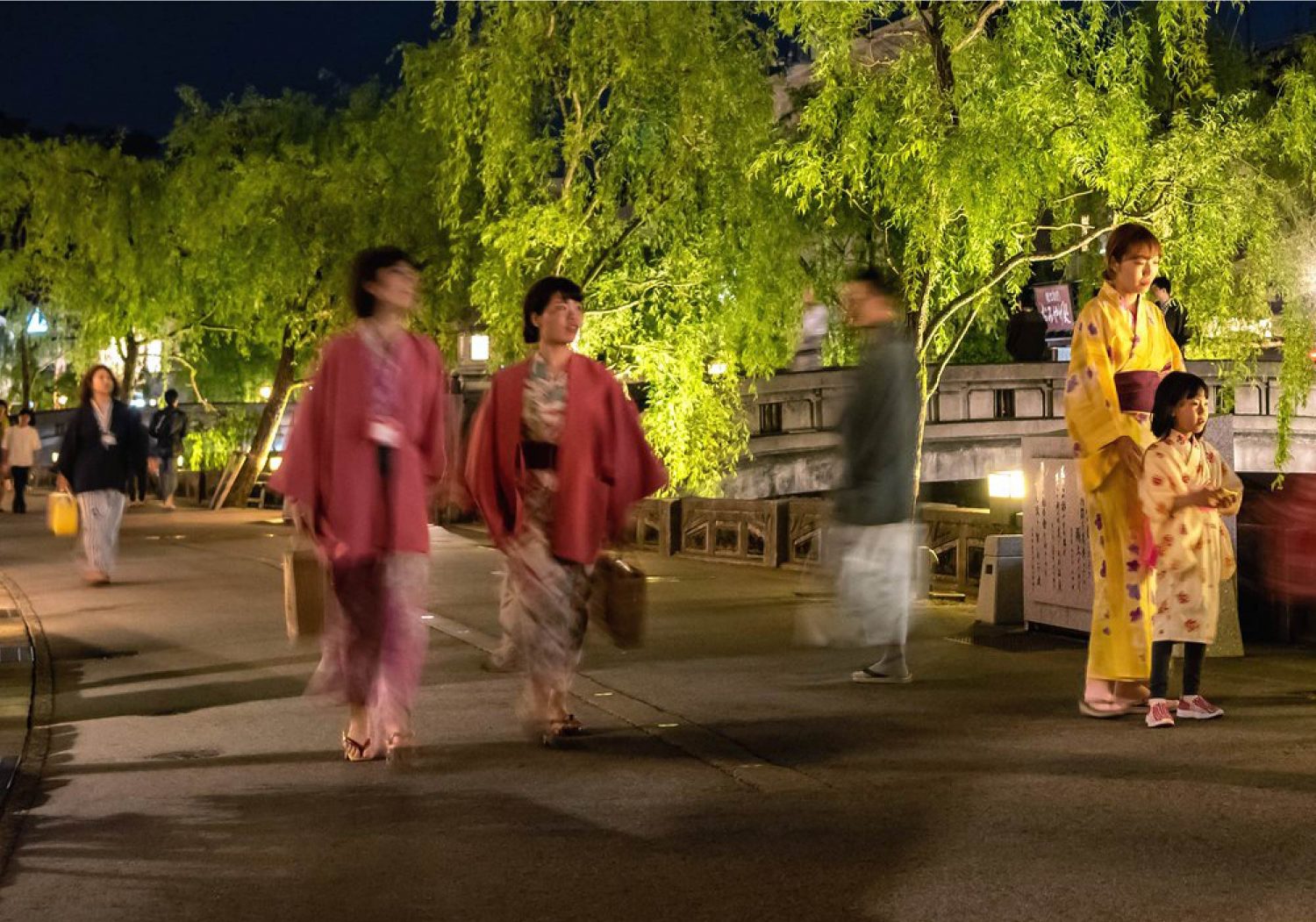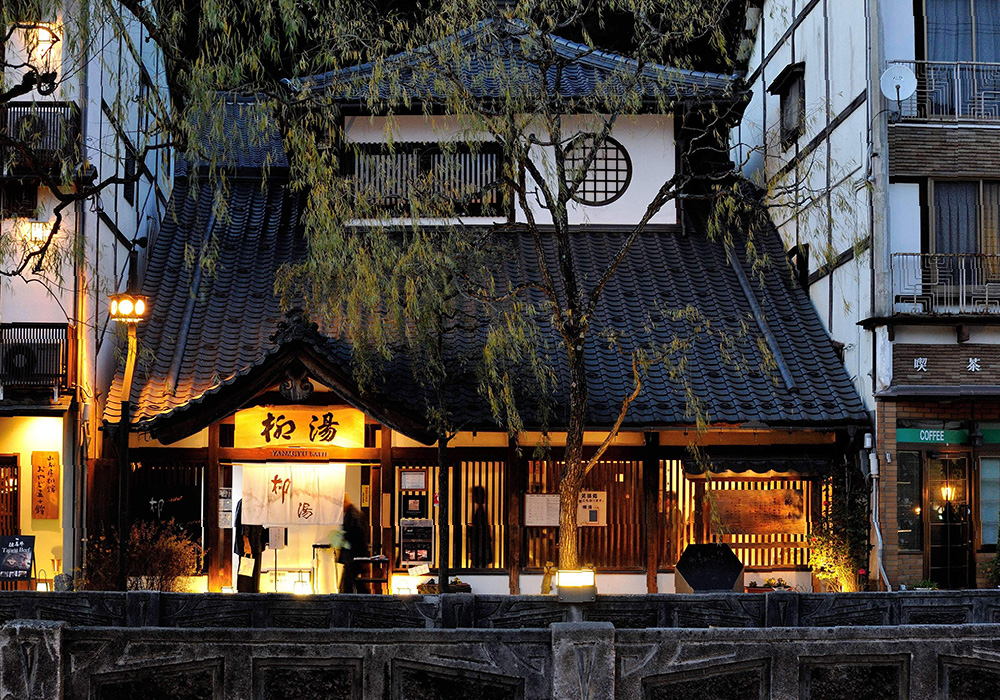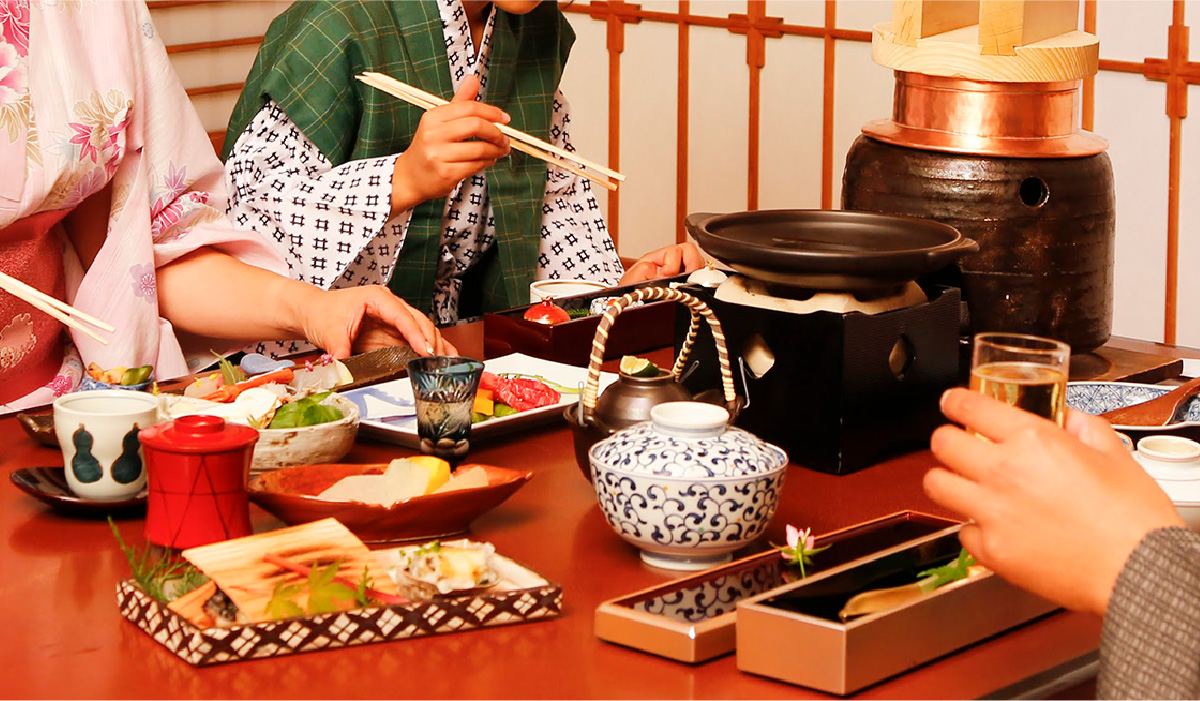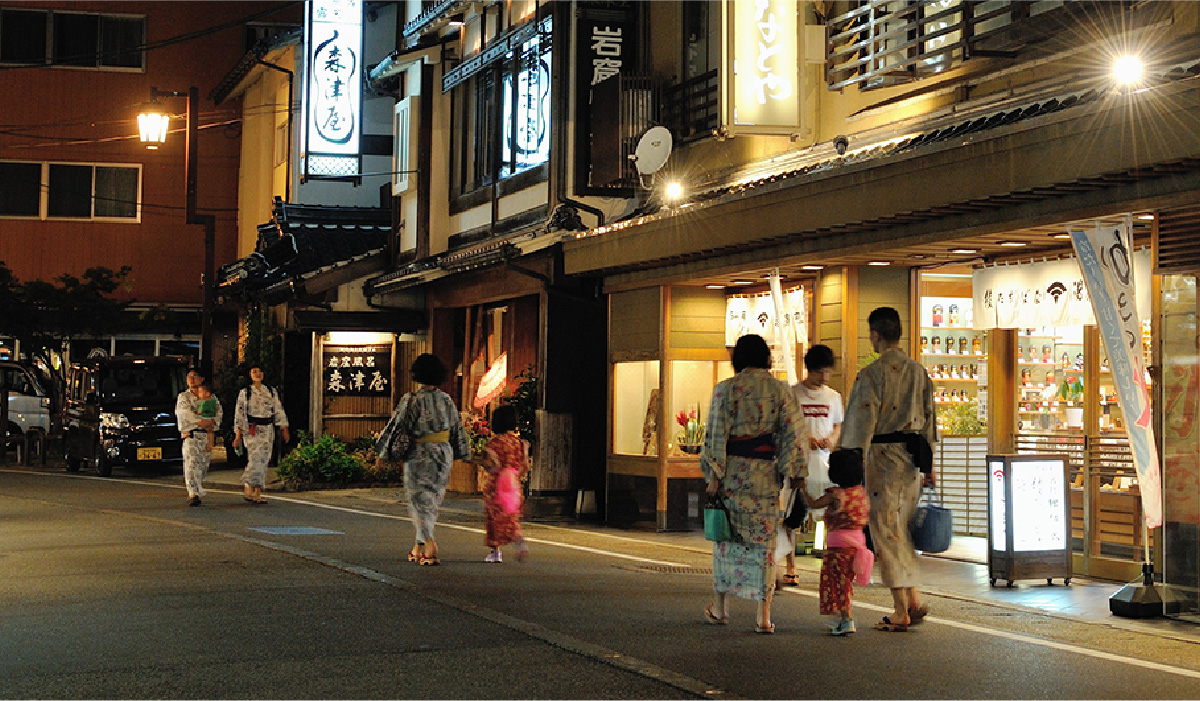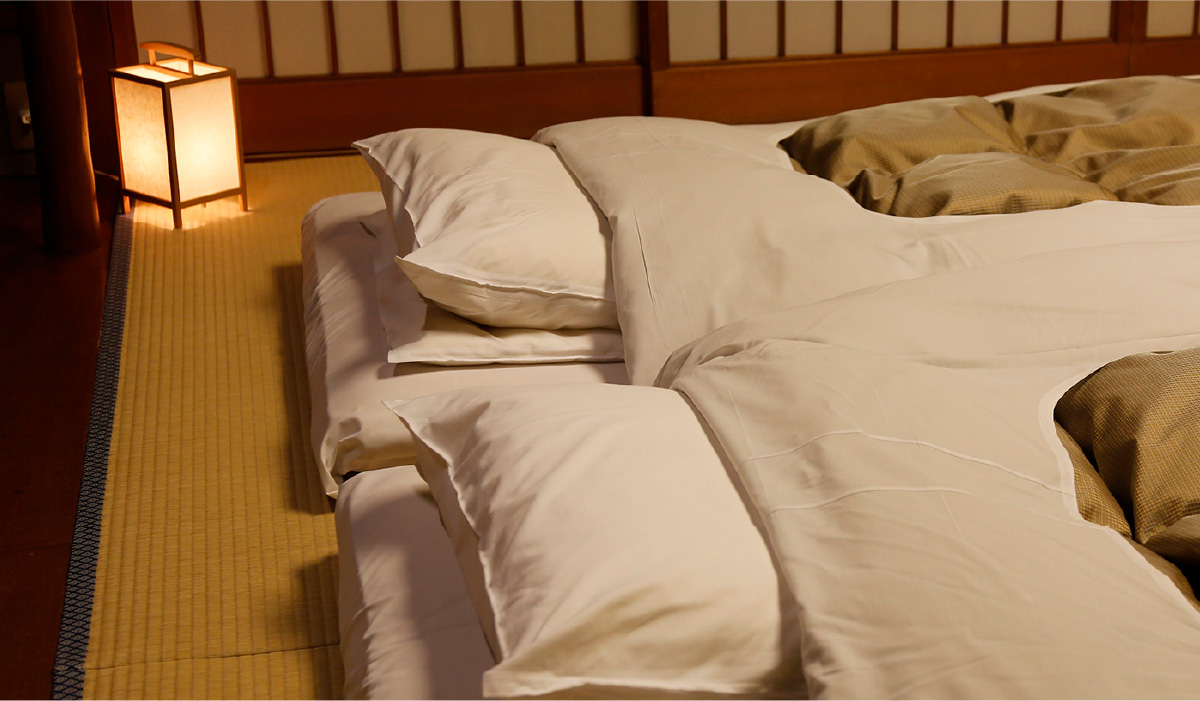 Leave your geta by the door
Your ryokan host or hostess will welcome you with a friendly smile and a warm bow. Slip off your shoes and come in.
Relax in your room with a cup of tea
Staff will escort you to your room, where you will enjoy a drink and small snack.
Please take a moment to enjoy these refreshments and rest from your journey.
Change into your yukata
A yukata is a beautiful piece of wearable tradition. Each ryokan has their own distinguishable style. Don't be afraid to ask the staff for assistance in putting yours on.
Enjoy the hot springs before dinner
Select ryokan have on-site onsen baths, some of which can be reserved for private use. Most ryokan will also provide you with a free pass to the 7 public hot spring bathhouses located throughout town.
Return to your ryokan for dinner
Kaiseki are traditional multi-course dinners which are an important feature of many ryokan. Many of the ingredients are produced locally and prepared fresh. Menus change with the season.
Explore the town more
After dinner you will have plenty of time to enjoy more hot springs and check out the charming evening atmosphere of this beautiful onsen town.
Turn in for the night
Return to your room with a feeling of complete relaxation and satisfaction. Plop onto the soft futons that have been set up by the ryokan staff while you were out, and drift away into a peaceful slumber.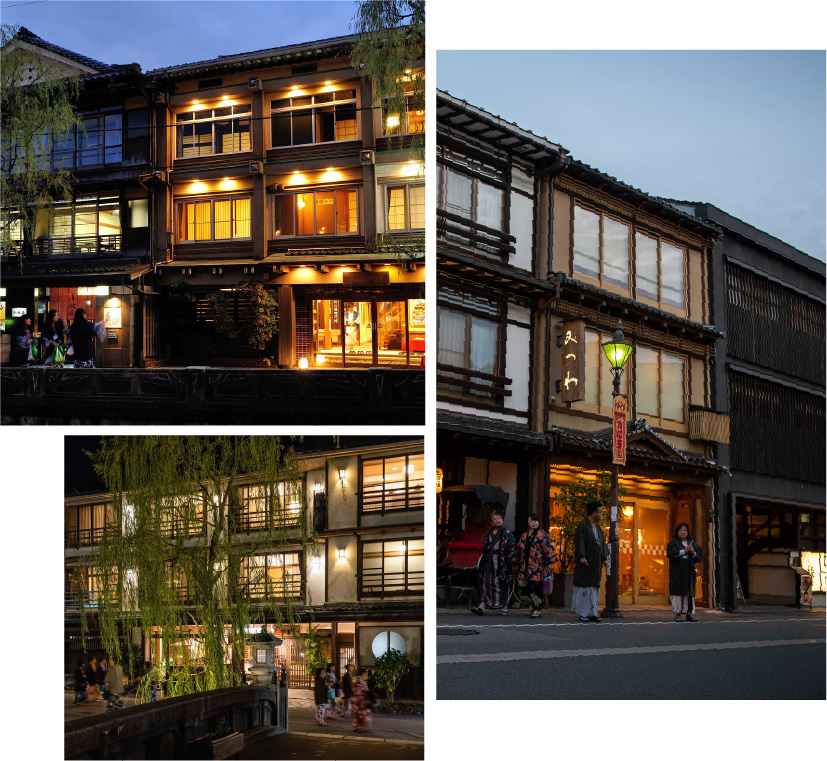 Ryokan of Kinosaki
Kinosaki Onsen, like Kyoto, maintains a strong sense of culture and tradition when it comes to their buildings. Lining the main streets and tucked away along on the mountainside backstreets are beautiful ryokan with classic architecture. Almost all of the ryokan in Kinosaki Onsen are locally owned and operated.
When staying in Kinosaki Onsen, guests should stay in one of these charming ryokan if they are looking for the ultimate cultural immersion. From the tatami flooring and futon bedding to the yukata and lavish kaiseki meals, every part of a ryokan stay is a cultural experience.
Ryokan kaiseki dinners
At first glance, the price of a ryokan can be intimidating. What one has to keep in mind is that a lavish and carefully planned kaiseki dinner is almost always included in this price. Kaiseki (a traditional, multi-course dinner) is a common highlight of a ryokan stay.
Kinosaki Onsen is surrounded by lush mountains and bountiful agriculture, and bordered by the Sea of Japan. Its location creates a rich menu for the ryokan, filled with fresh, locally-grown ingredients obtained daily. Each season brings new ingredients and a new menu.
For those with dietary restrictions or allergies, please notify your ryokan when you make your reservation. While vegetarian and other special meals may not be listed, a ryokan may be able to create a special menu to accommodate your needs.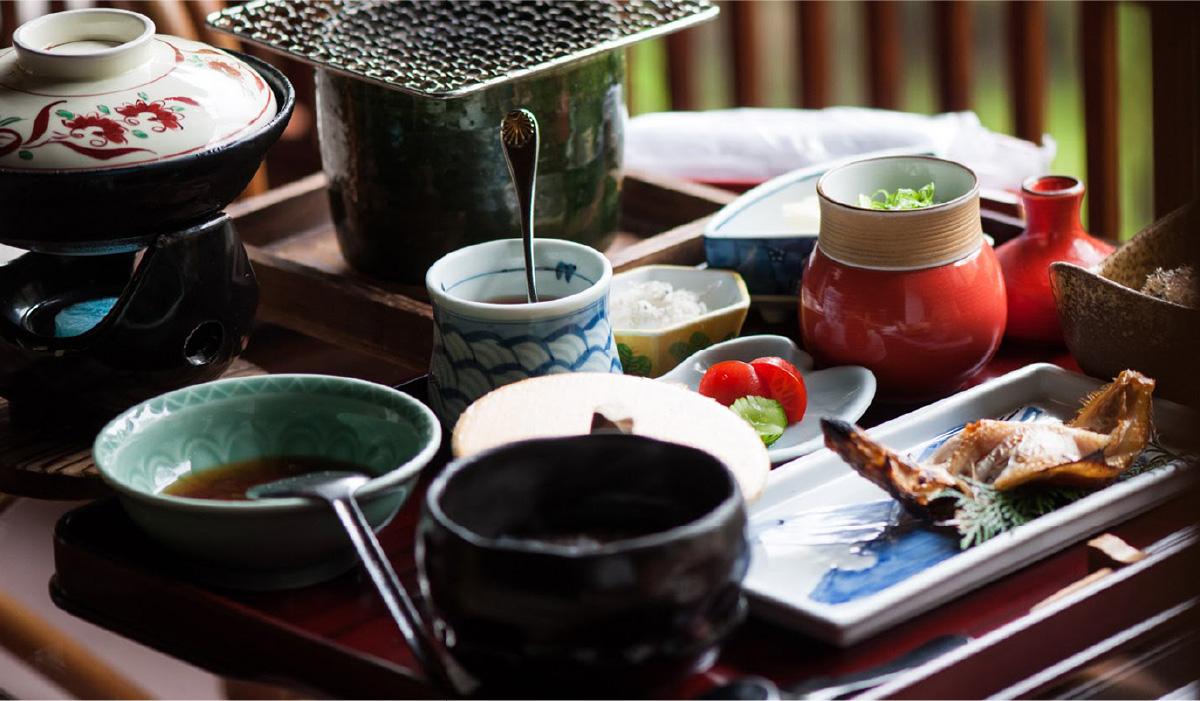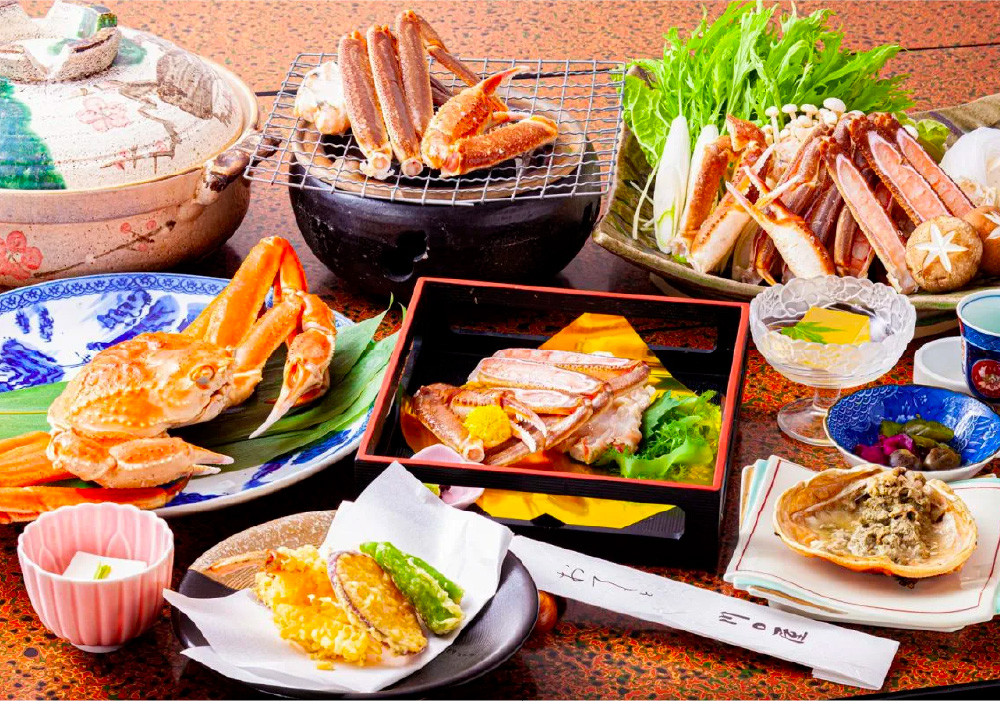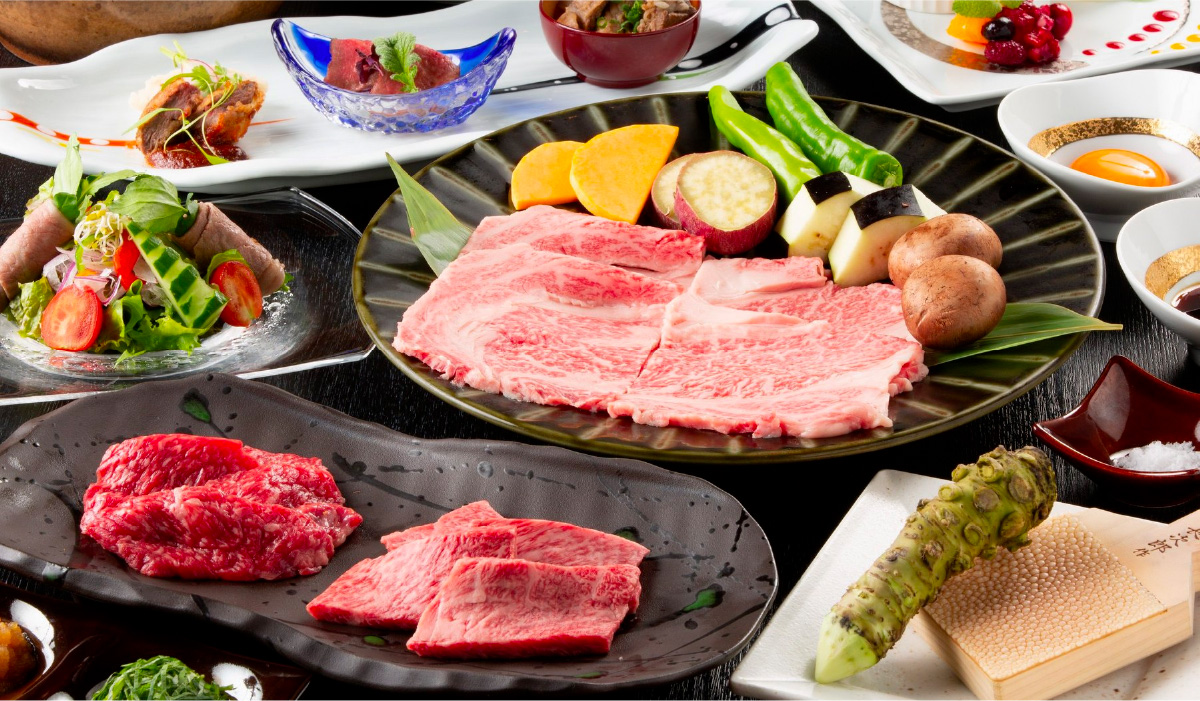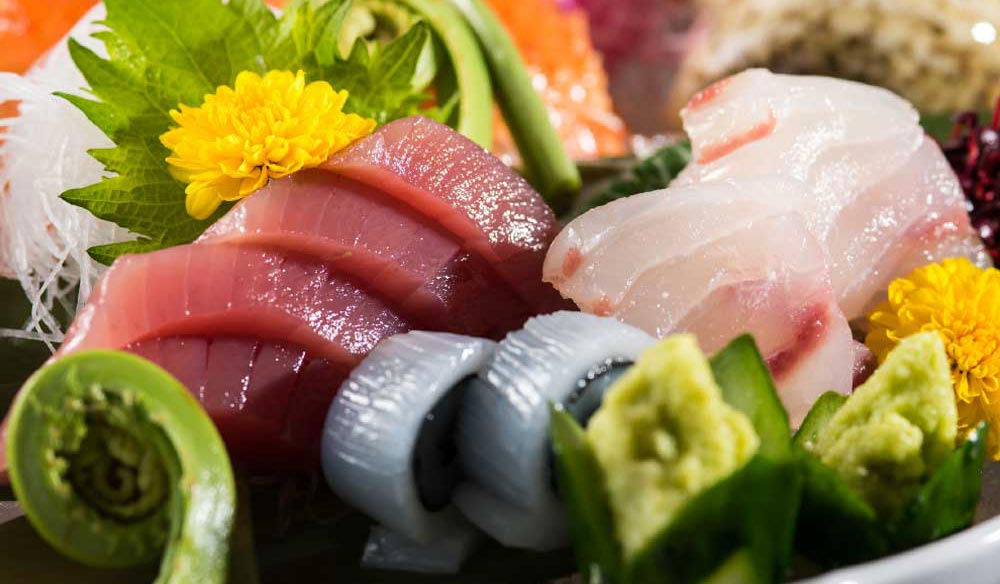 Breakfast
Breakfasts are simpler but just as delicious. A typical breakfast consists of grilled fish, a Japanese-style omelet, miso soup, and a light vegetable side.
Snow Crab
November to March is crab season in Kinosaki Onsen. Snow crab, considered to be one of the most delicious types of crabs, is on every ryokan's menu. Many Japanese people flock to Kinosaki for its ultra-fresh crab caught right nearby.
Tajima Beef
Tajima beef is Japanese wagyu, that's been raised in the Tajima region, where Kinosaki is located. Its known for its flavor, tenderness, and well-marbled textured. While some is sold in Tajima, some is sent off to Kobe to be sold as Kobe Beef—making the Tajima region the origin of this famous dish.
Seafood
The Sea of Japan, just 16 minutes away, provides an immense selection of freshly caught seasonal seafood.
BOOK YOUR STAY
IN KINOSAKI ONSEN
CHECK IN
CHECK OUT
NO. OF PEOPLE
We are constantly updating room availability. New rooms are usually posted 3-4 months in advance.