Since ancient times, Kinosaki Onsen has prided itself on welcoming all who wish to benefit from the cozy hot spring town's therapeutic waters. For many guests, however, diving straight into one of the Seven Mystic Hot Springs and sharing the waters with others can be quite the daunting experience, especially for first-time hot spring-goers. Luckily for overnight visitors in Kinosaki Onsen, many inns provide private bathing experiences for guests to enjoy either in complete privacy or with family/friends.
Compiled in a list below are some of our favorite private baths around Kinosaki Onsen:
Private Open-Air Spa Nishimuraya Hotel Shogetsutei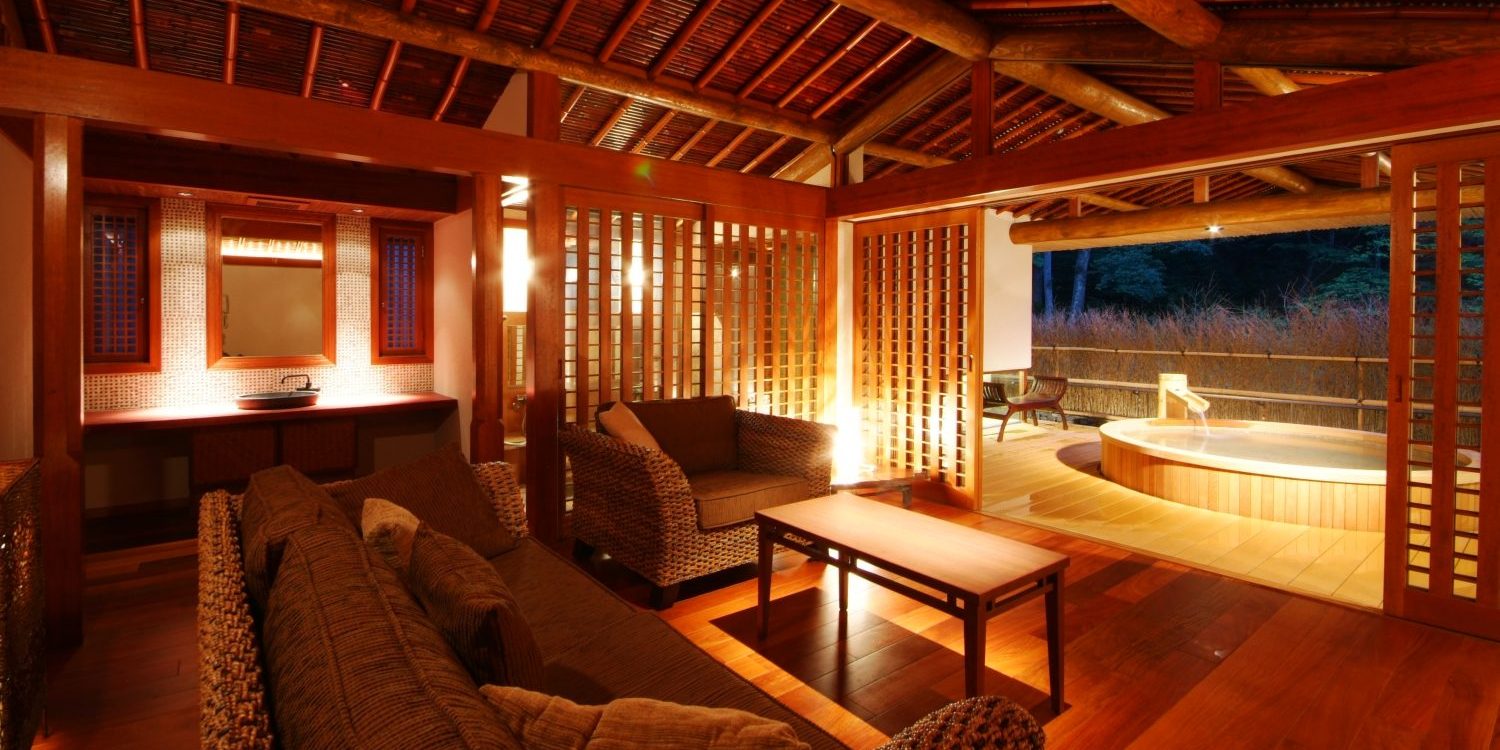 With magnificently designed interiors, private bathrooms, rock saunas and grandiose open-air baths, Nishimuraya Hotel Shogetsutei's three private spa houses are an essential pillar to curating a lavish stay in one of Kinosaki Onsen's most luxurious accommodations.

Guests spending a night at Nishimuraya Hotel Shogetsutei or Nishimuraya Honkan can choose between the opulent ambiance of a Japanese, Chinese, and Balinese-style interior when booking a one-hour time slot for an especially indulgent bathing experience.

After a dip in the outdoor bath surrounded by lush forest verdure, guests are welcome to help themselves to a glass of sparkling wine and mineral water.

Rose Bath at Tenbouen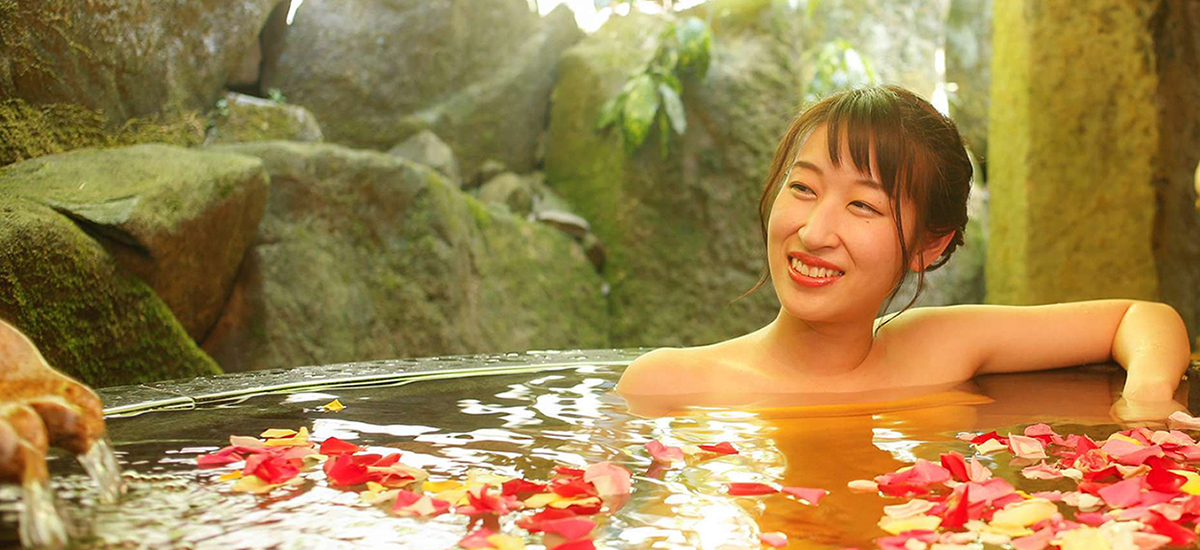 On the bucket lists of many hot spring aficionados, kicking it back in a bath strewn with freshly plucked flower petals is the pinnacle of Instagram-worthy Japan travel pics.

As if a bath of roses wasn't a fabulous enough experience on its own, Tenbouen has gone the extra mile for its guests with twinkling lights adorning the bath's outdoor patio ceiling, rustic rock walls, and a reclining lounge chair for cooling off post-bath.

Afterwards, consider trying out the extra spa add-ons to unwind even further: an outdoor public bath for men and a private rock sauna for women.

Fruit Baths at Yuraku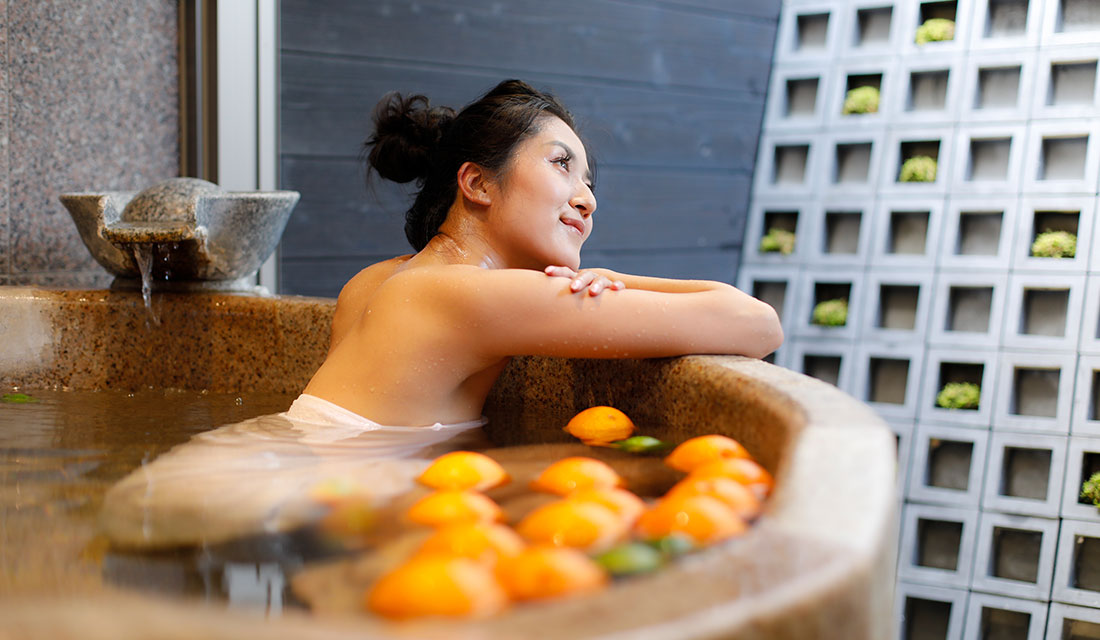 Fruit-infused face masks, lotions, shampoos, what next? How about a fruit-infused hot spring bath all to yourself?

Guests spending the night at Yuraku are welcome to reserve a timeslot at check-in for a 40-minute private soak either with oranges and limes or apples.

Spending the night on Halloween? Instead of bobbing for apples, soak up the spooky autumn vibes during an apple bath instead.

Those who ultimately prefer floral scents need not worry, however, as Yuraku provides the classic flower-infused bath option as well.

No matter your taste, lay back, relax, and enjoy complimentary aroma therapy, courtesy of Yuraku's private baths.
Rock Cave Bath at Morizuya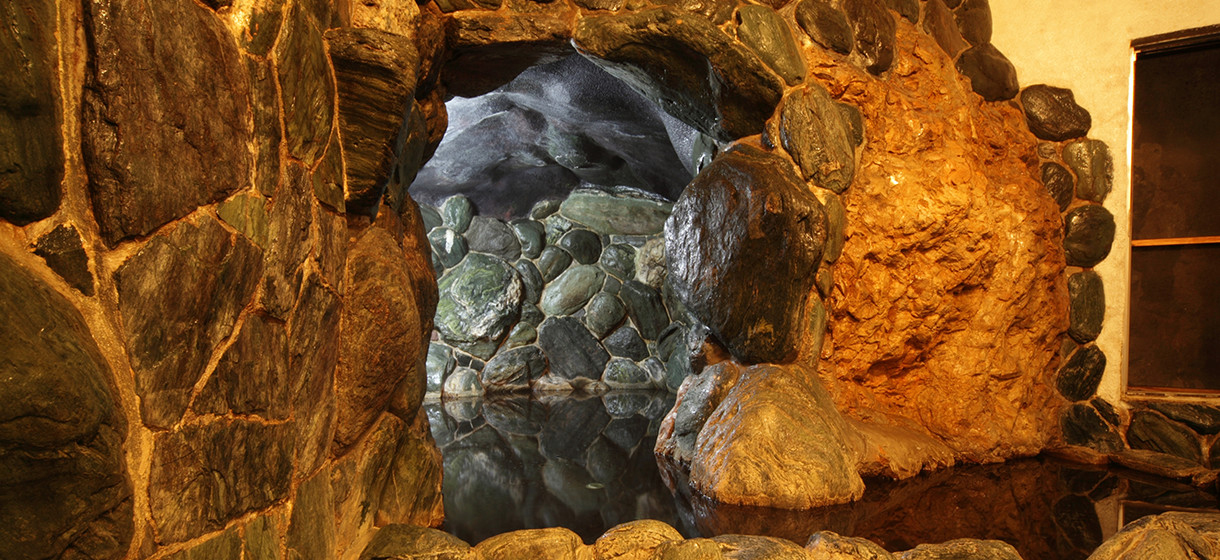 Guests staying at Morizuya have the special chance to experience a private cave for an especially fun and one-of-a-kind bathtime experience.

Normally used as a public bath for all guests, Morizuya's cave bath is transformed into a private bathing zone for groups at night.
Twinkling Light Bath and Tatami Bamboo Bath at Tajimaya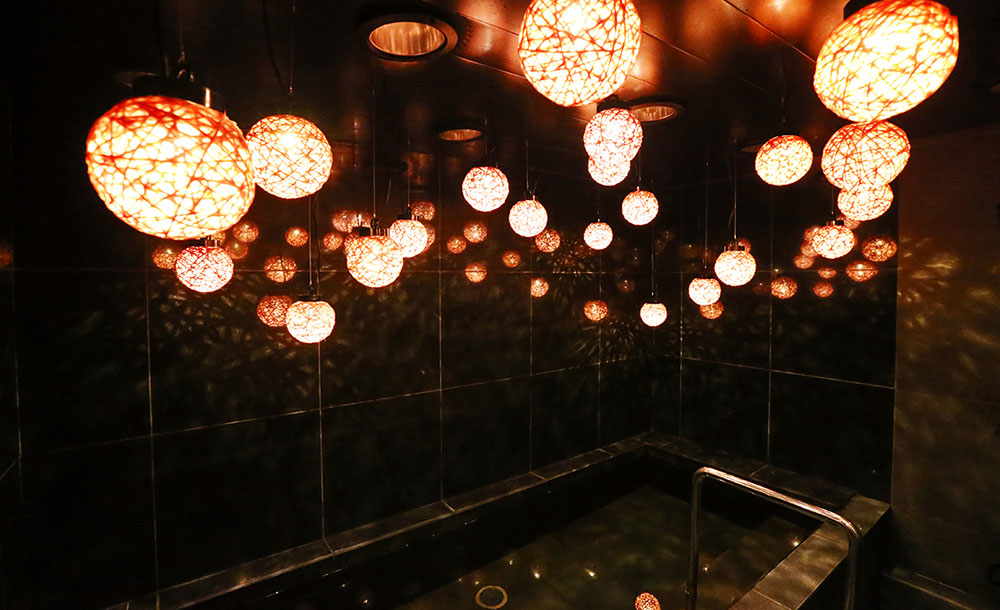 Wonderfully blending modern and classical ambiance with the pleasures of a private hot spring, Tajimaya offers guests two gorgeously designed baths: Kagen-no-yu, a sleek tiled bath enveloping guests in a twinkling night sky underneath a galaxy of bright red planets, and Chikuyo-no-yu, a traditionally styled bath illuminated by light pouring through the intricate bamboo latticework.

Instead of stone, Chikuyo-no-yu's flooring is tatami, making it non-slip and gentle on the feet.

Tajimaya's private baths are available for guests on a walk-in basis, or can be reserved by contacting the front desk.

Micro Bubble Bath at Tsubakino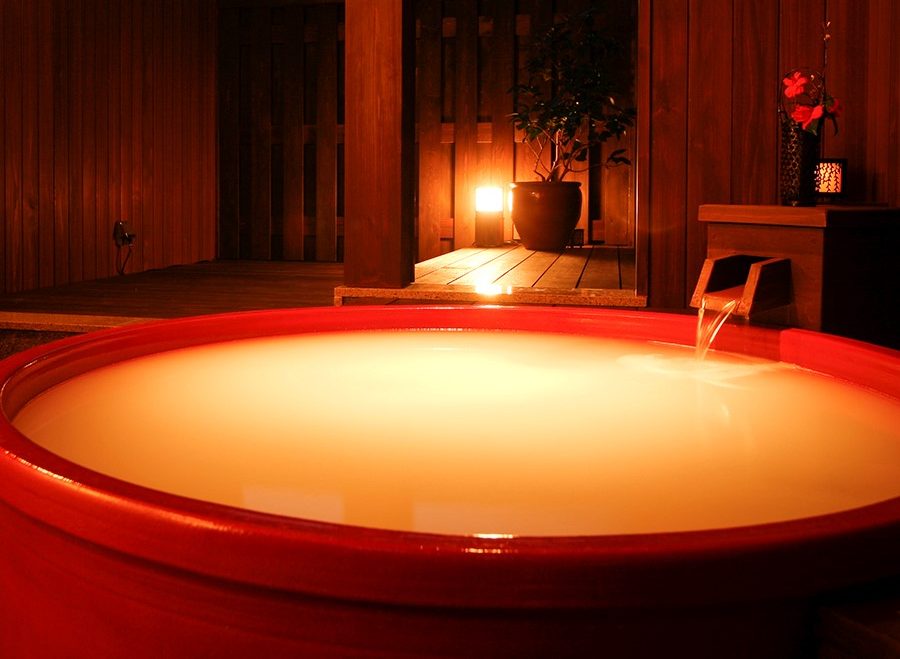 Savor the fresh countryside air with a 45-minute private soak in Tsubakino's micro bubble bath.

Micro bubble baths are said to boast a variety of skin benefits: small bubbles of air are infused into the water, removing impurities from the skin's pores and skin softening.

The small bubbles popping up to the bath's surface creates a milky, silky cloak over the water, a lovely contrast against the tub's smooth vermillion finish.

As the only bath in Kinosaki Onsen featuring natural hot spring water and micro bubbles, guests at Tsubakino are encouraged to try this unique outdoor bath experience
Outdoor Bath at Higashiyamasou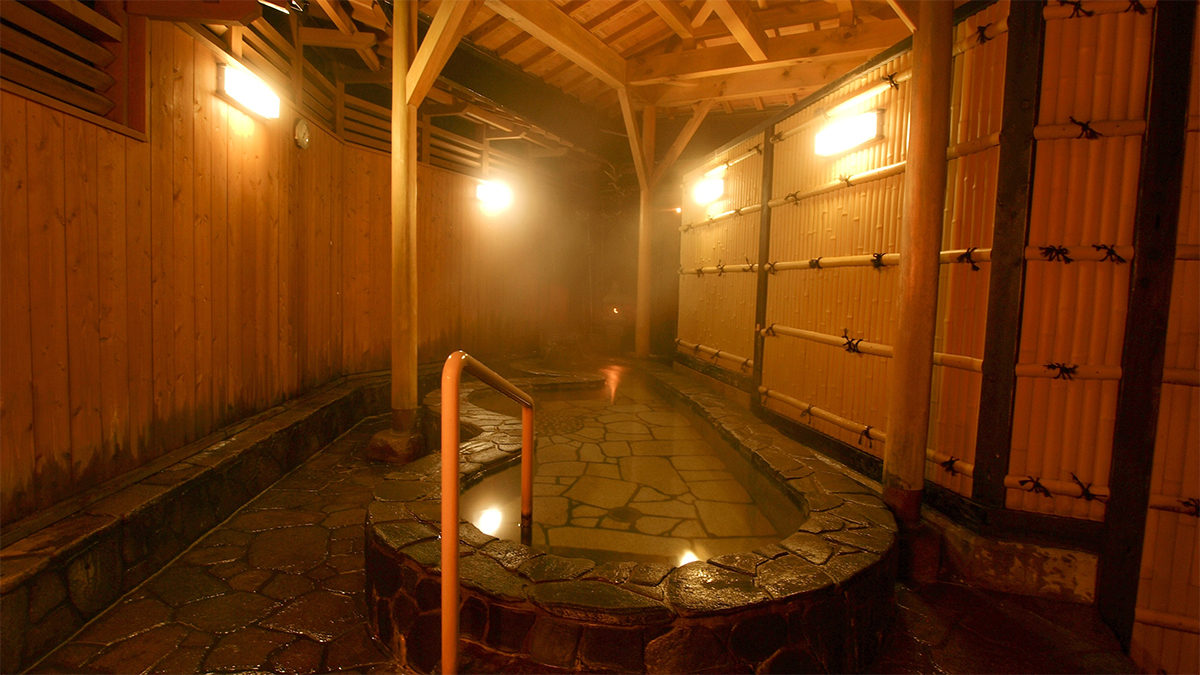 When it comes to onsen, public or private, it's impossible to go wrong with an outdoor bath.

Outdoor hot spring baths, called rotenburo in Japanese, are especially popular with wintertime travelers searching for a cozy (and if they time it just right, snowy) bath time repose.

During a stay at Higashiyamasou, guests are invited to savor the crisp mountain air of Kinosaki Onsen no matter the season with a dip in their private roof-covered bath.
Baths Plus a Lightshow at Ichidaya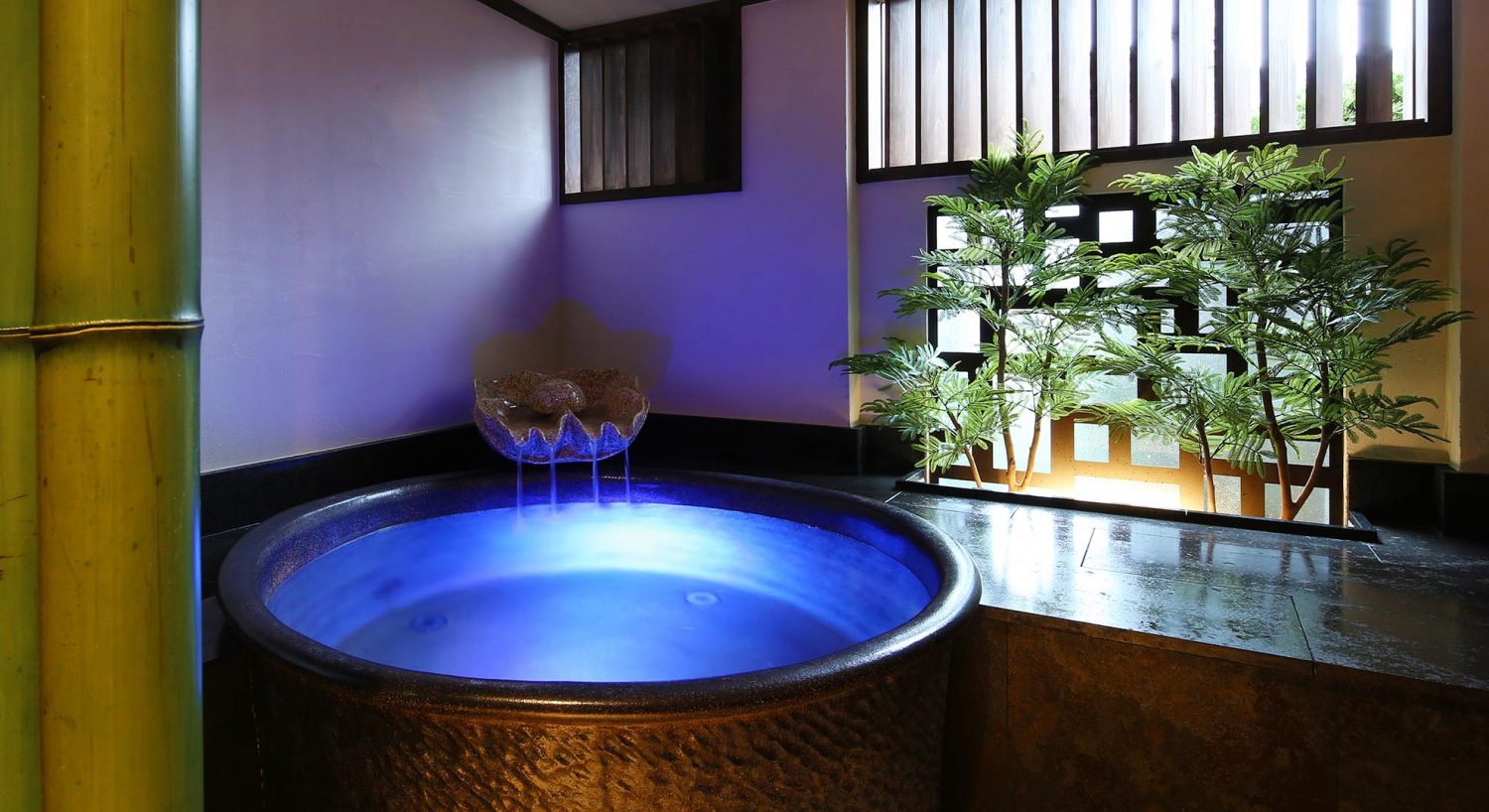 Going the simple, traditional route not really your thing? Ichidaya's take on the hot spring breaks away from the conventionally muted, subdued colors and styles found with many private baths.

While still retaining the beloved charm of Japanese design and simplicity, Ichidaya's Yamazakura and Suiren baths illuminate their sparkling waters with underwater lights, providing guests who reserve a private bath time with an innovative and futuristic twist.

The Best of Both Worlds at Kourakuen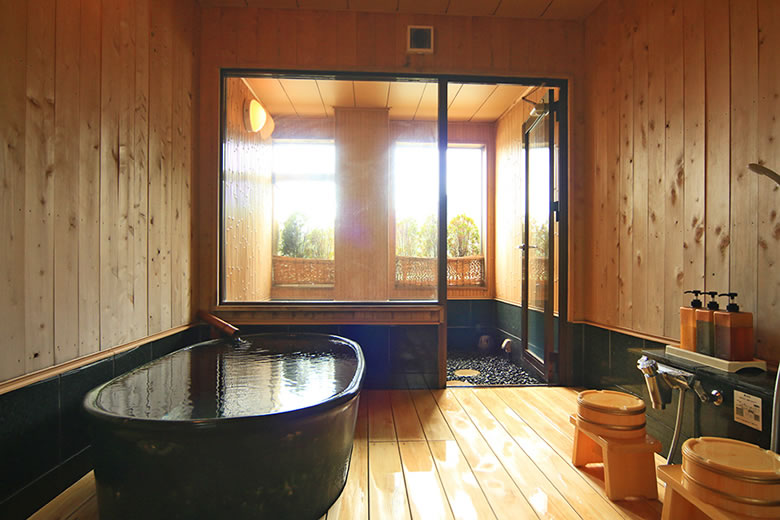 For guests with a knack for two-for-one bargains, Kourakuen's indoor and outdoor private bath sets may be just the thing to top off a getaway in Kinosaki Onsen.

Kourakuen offers two sets of hot spring baths reservable by guests upon check-in, with each time slot including a private room housing not one, but two baths for indoor and outdoor enjoyment.

Depending on which side guests choose, a fragrant Japanese cypress bath or a ceramic bath crafted from Shigaraki porcelain will be ready to welcome them for a soak.