Kinosaki Must-Visits Pass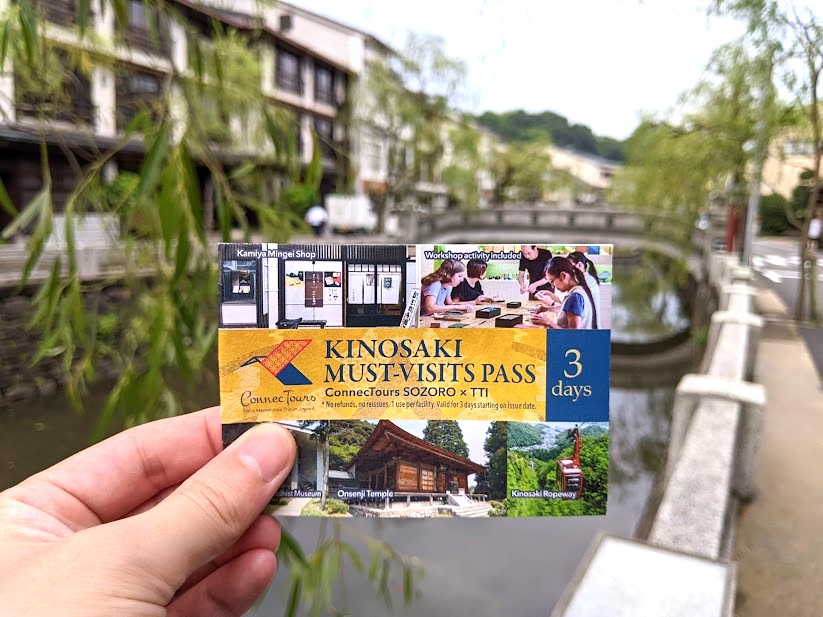 Your one-way pass to the ultimate hot spring town experience.
A catch-all for the best of Kinosaki Onsen
Available for purchase both online on visitkinosaki.com and in-person at SOZORO Tourist Information Center near Kinosaki Station, the Must-Visits Pass is your insider go-to for all of Kinosaki's must-see attractions and shops. Not only do you receive a ticket on Kinosaki Onsen Ropeway, the admission of Onsenji Temple, Kinosaki Museum of Art, and Kamiya Mingei (Kinosaki's famous straw craft workshop), you can get special gifts and discounts at certain local businesses by showing your Must-Visits Pass to shop staff.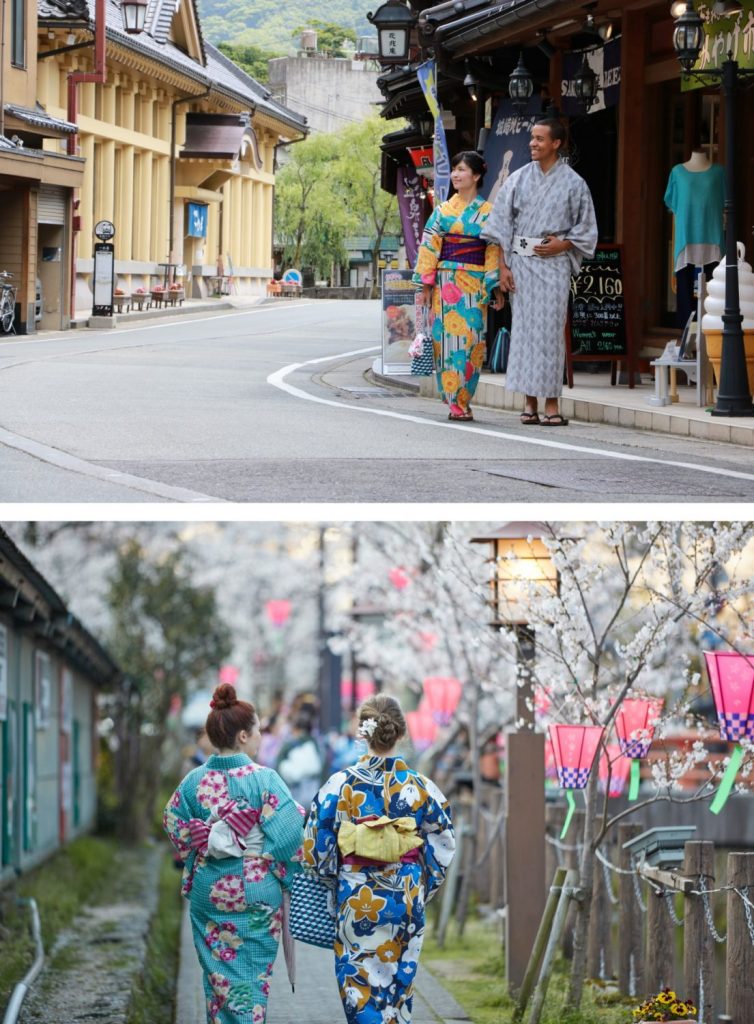 Enjoy Japan's best hot spring town
As a completely walkable Japanese hot spring town, Kinosaki Onsen's visitors are highly encouraged to make the most of their trip by stopping by as many areas and sightseeing spots as possible.
Not exactly sure where to go or what to try? Kinosaki Must-Visits Pass has you covered!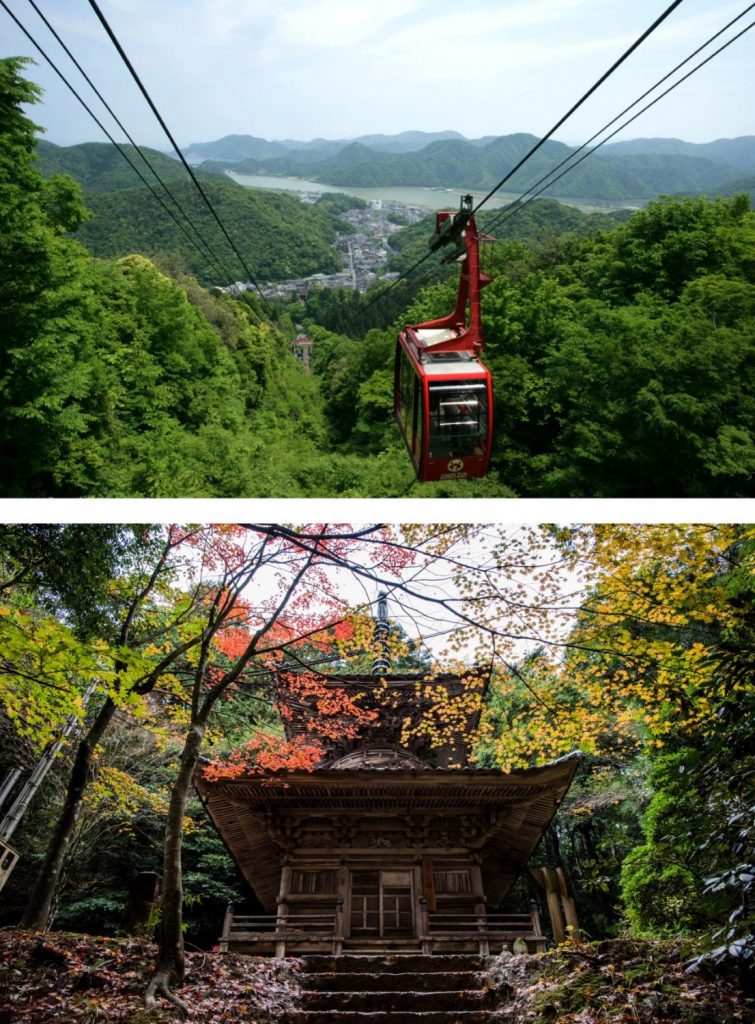 Ride the ropeway to Onsenji Temple
Before entering Kinosaki's healing hot springs, take the ropeway halfway up Mount Daishi to pay respects at Onsenji Temple. It has been a tradition for over a thousand years for those who wish to enter Kinosaki's hot springs. Inside Onsenji Temple, you can even come across the left-behind canes of those who have been healed by the hot springs.

Also known as Onsenji Treasure Hall, the Kinosaki Museum of Art is located just next to Onsenji Temple and houses a variety of sacred artifacts.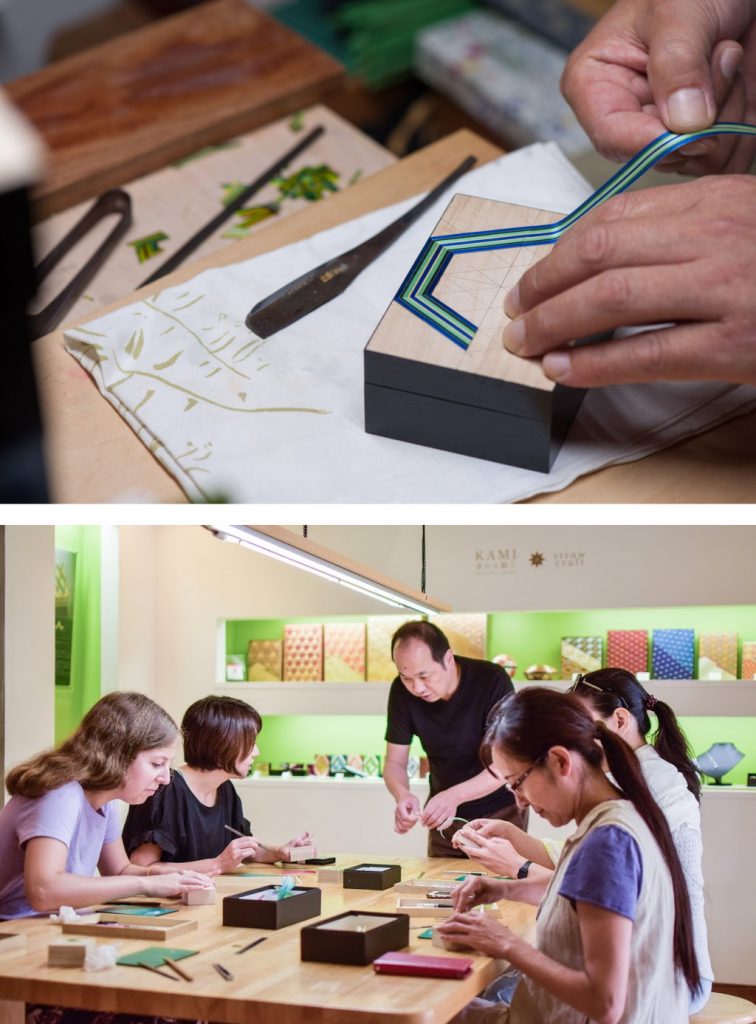 Experience the rare artform of "mugiwara zaiku" at Kamiya Mingei Shop
It is said that "mugiwara zaiku" (straw craft) was introduced to the region around 300 years ago, when a craftsman from Tottori arrived in Kinosaki Onsen. He started to stick colored straw to frames and flutes and sold them to make money for his lodgings.

Back in Kinosaki Onsen, you too can learn the art of straw craft with a 30-minute activity under the guidance of a local craftsman. At the workshop Kamiya Mingei, travelers will make their very own straw craft creation (an item exclusive to Must-Visits Pass holders) while also getting to meet one of the few remaining straw craftsmen in all of Japan (interesting fact: straw craft can only be found in Kinosaki).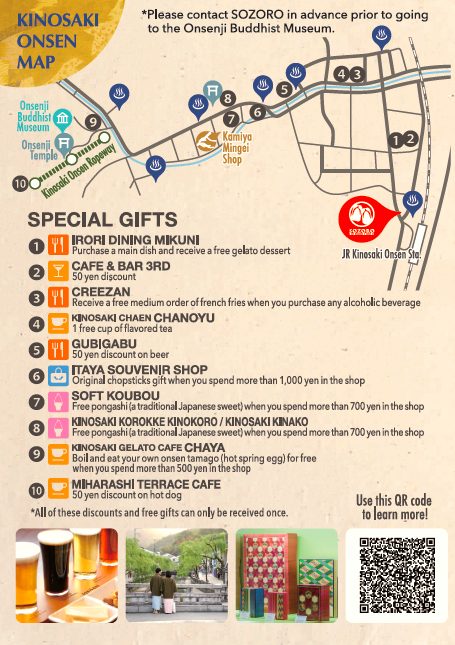 Add to the fun with special discounts and gifts at local shops!
All attractions can be viewed on the map below!
DETAILS
REGISTRATION START

2022/10/21
RESERVATION DEADLINE

5 days before activity
SCHEDULE
(Some times may differ)

Reserve your Must-Visits Pass online, or purchase in-person at SOZORO Tourist Information Center. Both credit card and cash are accepted for in-person payment at SOZORO Tourist Information Center.
Regardless of whether you purchase online or in-person, please pick up your Must-Visits Pass at SOZORO Tourist Information Center.
ACCOMPANYING GUIDE
(INCLUDED OR NOT)

Not Included
MINIMUM NUMBER OF PEOPLE

1
AGE REQUIREMENT

Certain promotions and activities included in the Must-Visits Pass may not be available for young children.
MEETING PLACE

Collect your pass at SOZORO Tourist Information Center, 96 Kinosakicho Yushima, Toyooka, Hyogo 669-6101
"
IMPORTANT INFORMATION

・Each Must-Visits Pass can only be used for a single person. Sharing one pass amongst multiple people is not allowed.
・Valid for 3 days after issue.
・In the event that the Kinosaki Ropeway ceases operation due to weather, construction, etc, refunds will not be accepted.
PRICES
(Per person unless otherwise noted)

| | One Must-Visits Pass |
| --- | --- |
| 1 person | 2,800 yen |
INCLUDED IN THE PRICING

Roundtrip Ropeway admission, Onsenji Temple admission, Kinosaki Museum of Art general admission, 30 minute straw craft activity at Kamiya Mingei, special offers at certain local shops
CANCELLATION FEES

| Day of Cancellation | Cancellation Fee (% of activity price) |
| --- | --- |
| The day of~5 days prior | 100% |
ACCEPTED PAYMENT TYPES

Credit card or cash (both credit card and cash are accepted for in-person payment at SOZORO Tourist Information Center).
OPERATOR NAME

Toyooka Tourism Innovation
Request Form